Introduction
The venue where buyers and sellers meet to exchange equity shares of companies and is also the place where buying, selling, insurance of shares of publicly held companies takes place is known as the stock market. In India, the regulation of the stock market is done by the Securities and Exchange Board of India (SEBI). The stock market allows many sellers and buyers of securities to meet, interact and transact.
Stock markets provide a secure and controlled environment where those participating can transact in shares and other acceptable financial instruments with confidence. As it is controlled by the regulator they act as primary and secondary markets. The primary market allows companies to issue and sell their shares to the common public by a process called an initial public offering. This means the company divides itself into a number of shares and sells a part of those shares to the public at a price. This helps in raising capital from investors. In order to sell those shares, the company needs a marketplace and that marketplace is provided by the stock market. Stock exchanges also maintain all company news, announcements, financial reporting which can be accessed on their official website.
Stock Market in India
In the Indian stock market, most of the trading takes place on its two stock exchanges: Bombay Stock Exchange and the National Stock Exchange. Both of them had the same trading hours, trading mechanisms and also same settlement processes. The BSE has listed 5,565 firms as of November 2021 and NSE listed 1920 as of March 2021. More or less all the significant firms are listed in both the exchanges. NSE is the largest stock market and BSE is the oldest one. Trading in both Exchanges is done through an open electronic limit order book in which order matching is done by a trading computer. Also, there are no market makers so the entire process is order driven and order driven market brings more transparency. Equity stock market act in accordance with T+ 1 rolling settlement this means trade which took place on Monday will get settled by Tuesday. There are two prominent Indian markets indices Sensex and Nifty. The responsibility of regulations, supervision and development of stock markets is vested with the Securities and Exchange Board of India. India permits foreign investments and it is categorised into two: foreign direct investment and foreign portfolio investment.
Commodity Market
It is a marketplace for selling, buying and trading raw materials. It allows the consumers and producers of commodity products to gain access to them in a liquid and centralized marketplace. Commodities are divided into two hard commodities and soft commodities. The commodities market is a virtual space where one can buy, sell or trade numerous commodities at current or future date. Commodity trading can also be done using future contracts. India has a total of 6 commodity exchanges: National Commodities and Derivatives Exchange, Indian commodity exchange, multi commodity exchange, National multi commodity exchange, Universal commodity exchange and ACE derivatives exchange. Commodity markets are also regulated by the Securities and Exchange Board of India. 
Multi Commodity Exchange of India
A commodity exchange based in India is a Multi commodity exchange of India. It is under the ownership of the Ministry of Finance. In terms of the number of future contracts trade, MCX is among the top global commodity exchanges. The MCX India commodity index (MCX ICOMDEX) was launched by MCX on December 20, 2019. It facilitates online trading of commodity derivatives transactions providing a platform for price discovery and risk management. It was established in 2003. The commodity prices are affected by fundamental factors like demand and supply. Geopolitical factors also influence commodity prices negatively and positively.
Securities and Exchange Board of India
It is a regulatory body for securities and commodity markets under the ownership of the Ministry of Finance. It was established on 12 April 1988 and gained its statutory powers through the SEBI Act, 1992 on 30 January. SEBI is managed by its members and they are The Chairman who is nominated by the Union Government of India, two members from the Union Finance ministry, one member from Reserve Bank of India and the remaining 5 are elected by the Union Government and at least three out of them will be whole time members. The basic functions of SEBI are explained in the preamble of the Securities and Exchange Board of India and it has to be responsive to the needs of three groups investors, issuers of securities and market intermediaries. Its headquarters is in Mumbai but it has many regional offices across the country including Ahmadabad, Kolkata, New Delhi, and Chennai. There are three protective functions of SEBI and they are the controlling of insider trading and imposing penalties for such practices, undertaking investor protection steps and promoting fair practices and code of conduct in securities market.
Top 10 Security Exchanges in the World
New York Stock Exchange
It is one of the world's biggest marketplaces for securities and other exchange trade investments. It is located in the financial district of lower Manhattan in New York City. It was established on 17th May 1973 in wall street, New York, United States. In 2013 its average daily trading value was approximately US$169 billion.
Chairman: Jeffrey Sprecher
Currency: United States Dollar
Nasdaq
It is an acronym for National Association of Securities Dealers Automated Quotations. It is second in the world's largest marketplaces. It is established on February 8, 1971, and is located in New York City, United States. It is also the world's first electronic exchange. Almost all technology giants of the world are listed in Nasdaq. Indices are Nasdaq-100, NASDAQ Financial-100, Nasdaq Composite.
Chairman: Adena Friedman
Currency: United States Dollar
Shanghai Stock Exchange
It is one of the three stock exchanges in mainland China. It is a non-profit organization and is run by the China Securities Regulatory Commission. It is situated in Shanghai, China. It was founded on 26th November 1990. It is also the largest one in the mainland, China.in terms of market cap for equity exchanges, SSE ranks fourth in the world.
Chairman: Huang Yuan
Currency: CNY (Chinese Yuan Renminbi)
Euronext
A pan-European bourse and it offers various trading services and post trading services like settlement, custody and clearing. It is originally a combination of three former exchanges from France, Belgium and the Netherlands. It is located in Amsterdam, Netherlands. It was established on 2000. It is the first integrated cross border regulated exchange.
Chairman: Stéphane Boujnah
Currency: EUR (euro)
Japan Exchange Group
It is a Japanese financial services corporation and is regulated by Financial Instruments and Exchange Act. It was established on 1st April 2001. Its headquarters is in chou city, Tokyo, Japan. As of February 2019, it has listed 2292 companies with a combined market capitalization of US$5.67 trillion. It is the third largest in the world by market capitalization of its listed companies. It provides secure and fair market infrastructure and data, clear settlement services. JPX owns and operates the Tokyo Stock Exchange (TSE), the Osaka Exchange (OSE), and the Tokyo Commodity Exchange (TOCOM). It was formed by the merger of TSE and OSE on January 1, 2013.
Chairman: Akira Kiyota
Currency: Yen
Hongkong Stock Exchange
It is the fastest growing stock exchange in Asia and is based in Hong Kong. Its CEO is Nicolas Aguzin. It's located in the Central district, Hong Kong. 2538 companies were listed by the end of 2020 with a market capitalization of HK$47 trillion.
Chairman: Laura cha
Currency: Hong Kong dollar
Shenzhen Stock Exchange
It is also one of the three stock exchanges which operate independently in the mainland, China. It is situated in the Futian district which is in Shenzhen. It was established on 1st December 1990 and opened on 3rd July 1991. Some of the main functions of SZSE are to oversee securities trading and to provide facilities for securities trading.
Chairman: Wu Lijun
Currency: CNY (Chinese Yuan Renminbi)
London Stock Exchange
It is the primary stock exchange in the UK and also the largest in Europe. It is located in King Edward Court. It was established on 30 December 1801. It is one of the world's most diverse capital Market. CEO is David Schwimmer.
Chairman: Don Robert
Currency: Pound sterling
Bombay Stock Exchange
It is located on Dalal Street, Mumbai. It is the oldest stock exchange in Asia. It was founded on 9th July 1875. It was started in 1875 by Premchand Roychand who was a cotton merchant. Indices are BSE SENSEX, S&P BSE SmallCap, S&P BSE MidCap, S&P BSE LargeCap, BSE 500 etc.
Chairman: Vikramjit Sen
Currency: Indian Rupee
National Stock Exchange
It is also a stock exchange located in Mumbai, India. It became the world's largest derivatives exchange in 2021. It was incorporated in 1992 and was recognised as a stock exchange in April 1993. It is the fourth largest by trading volume and is India's largest financial market. Indices are NIFTY 50, NIFTY Next 50, NIFTY 500.
Chairman: Girish Chandra Chaturvedi
Currency: Indian Rupee
Aptitude provides a wide range of quality study material for preparing SSC exams which will guide you like an accomplice for cracking SSC exams through our dedicated app "Aptitude Live App". It covers General Knowledge Topics, Quiz, Current Affairs etc.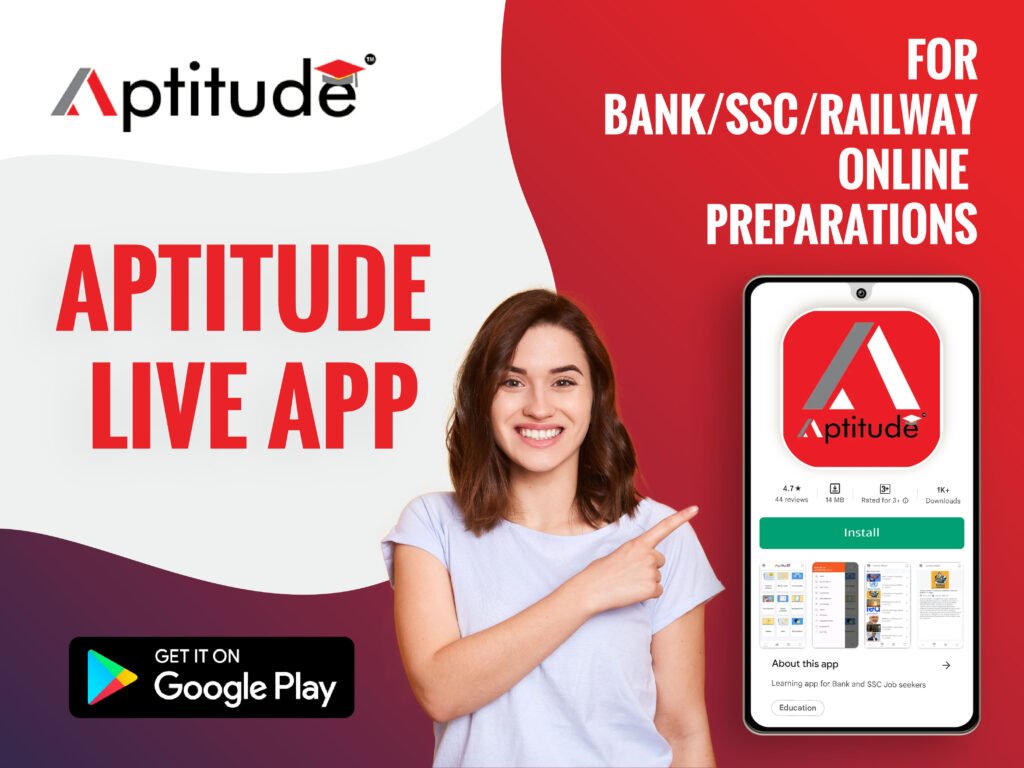 Don't wait anymore. Aptitude study materials are also available in the form of textbooks with almost 1500 pages which cover all the syllabus for SSC exams. Start your online preparations today itself! Don't procrastinate. Start today itself.
Follow our social media profiles to get more updates on Bank, SSC and Railway exam related topics: Instagram, Facebook and YouTube.